The Occupy Movement
Detalles

Categoría de nivel principal o raíz: News
Direct Action: The 99% Takeover of the Wells Fargo Annual General Meeting

Tuesday, April 24th at 10am

Meet at Justin Herman Plaza
Mass sit-in and rally

March to Shareholder Meeting at Merchants Exchange Building 465 California St., SF
Signup to attend the action by clicking here.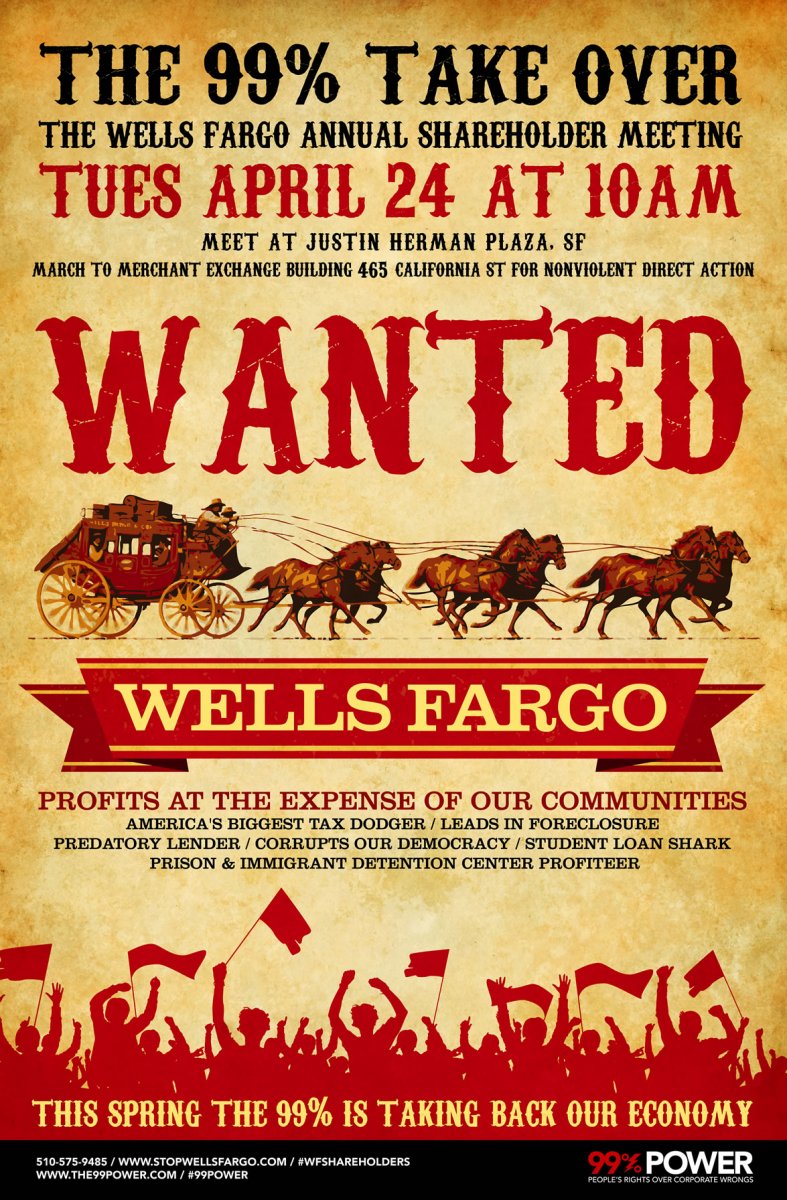 Wells Fargo has hurt millions of people around the country with their bad practices. Almost every...
Detalles

Categoría de nivel principal o raíz: News
DAYLONG NONVIOLENT MASS OCCUPATION on Anniversary Eve of Citizen's Supreme Court Ruling
J20: Occupy Wall St. West
Friday, January 20, 2012.
Noon @Justin Herman Plaza
, San Francisco Financial District
Respect Human Rights For Human Beings And Not For Corporations
Stop Wall St. Banks & Corporations Attack on our Communities, Homes, Education, Environment, Livelihood and Democracy
JANUARY 20: DON'T GO TO — OR WALK OUT OF — WORK AND SCHOOL. 
No Business as Usual!
What: A day of mass action centered in the SF Financial District.
When: Friday, January 20
Where: Beginning at Justin Herman Plaza (end of Market St.)
Why: To end corporate personhood. Corporations are NOT people; Money is NOT speech. January 20 is the anniversary eve of the Citizens United Supreme Court ruling, which further privileged corporations over people in our Constitution.
•To demand that banks stop foreclosing on our neighbors and evicting them from their homes for profit.
•To demand a stop to the displacement of families and attacks on immigrants.
•To contribute to ongoing community fights for social and economic justice against banks and corporations.
•To build and mobilize a broad-based, strategic mass movement asserting the people power of the 99% in San Francisco, the Bay Area, California and the region. 

There will be lots of activities. This is what Causa Justa :: Just Cause is planning:
• Noon - March with us from Justin Herman Plaza to Fannie Mae at 50 California St., to Wells Fargo, and to the ICE building.
Speakers including tenants dealing with unscrupulous landlords; homeowners facing foreclosure; those affected by I.C.E. who will talk about the link between Wells Fargo and detention centers. Also speaking will be reps from SEIU and Young Workers United; there will be street theater/teatro.
• Plug in action at 4:00pm against Fortress Investment with San Francisco Tenants Union, Housing Rights Committee. Fortress Investment is the company that is financing the eviction and destruction of thousands of rent controlled apartments at Park Merced. Fortress's CEO Daniel Mudd was a former head of Fannie Mae whose practices as head of Fannie Mae we under investigation.

• 5PM - Closing march

 with Progressive Workers' Alliance
Dozens of affinity groups and over 55 organizations are participating
.

Join Us!
Follow us on Twitter @causajusta1
OccupyWallStWest.org/Occupy SF Housing is a coalition which includes OccupySF, SF Tenants Union, Housing Rights Committee of SF, Causa Justa: Just Cause, SEIU, Pride at Work/HAVOQ, Alameda County United in Defense of Immigrant Rights (ACUDIR), Young Workers United, Eviction Defense Collaborative, ACCE, Homes Not Jails, Occupy Bernal, and other community groups and individuals. The coalition came together to stop banks from evicting tenants and homeowners through foreclosures or through their partnerships with real estate speculators.
For more info go to http://www.occupywallstwest.org/wordpress/
Causa Justa :: Just Cause is a multi-racial grassroots housing and immigrant rights organization representing both sides of the Bay.
Detalles

Categoría de nivel principal o raíz: News
The "Occupy Our Homes" national day of action on December 6th saw unprecedented numbers of homeowners taking action to take back or keep their homes.
On that day, the 99% and Occupy Oakland activists took over a Fannie Mae-owned vacant property at 1415 10th Street in historic West Oakland that is now being used as housing for formerly homeless folks and for community meeting space with support of CJJC.
This Saturday, Dec. 10, at least 60+ people turned out at the house, some of them young children and their parents for a story time circle organized by the Colorful Mamas, while other folks came for the membership meeting where participants shared their stories about their fights against foreclosures and to offer support.
The neighbors have been extremely supportive and the broader community as well. With the help of a crew of volunteer plumbers from the neighborhood and from Occupy Oakland, the plumbing now works!
Contact us at: Esta dirección de correo electrónico está siendo protegida contra los robots de spam. Necesita tener JavaScript habilitado para poder verlo.
Take Action, Sign the Petition! If you have already signed, CALL Fannie Mae on Tuesday, December 13th. Read more below....

Take Action Now
The 10th Street home was occupied to pressure Fannie Mae into giving back the deed to the Ramirez family whose home was foreclosed on earlier this year.
The loan servicer, Bank of America, pretended to negotiate with Margarita Ramirez, a CJJC member and domestic worker from East Oakland. Instead, they sold the home two weeks early. Thanks to your support in July B of A agreed to rescind the sale & modify the loan, but Fannie Mae is now standing in our way.
Neighborhood activists are occupying the vacant house as leverage to pressure Fannie Mae to return the Ramirez family's deed.
Return the Deed!
If you agree that Fannie Mae should give the Ramirez family their home back, help us pressure Fannie Mae into doing the right thing. Please sign this petition and pass it along to your networks. We need to get as many people as possible to sign this petition to show that the Ramirez family has the support of a huge community who will not stand by idly while Fannie Mae allows families' home to be stolen.

As a government program, Fannie Mae should be working with families to help them keep their homes.
And... if you agree that enough is enough, call Warren Harris, the Northern California Foreclosure Coordinator on Tuesday at: 562-235-1874. Let him know that he needs to commit to retrieving the deed for the Ramirez home. 

Here's what to say:
"I'm a supporter of the home occupation to get the Ramirez family their deed, and I am a member of the 99%.

I'm demanding that you start the process to retrieve the deed for the Ramirez Family at 2586 63rd Ave, Oakland CA, and contact Causa Justa :: Just Cause as soon as possible to update them on the status of the deed."

10th...