By Jarymar Arana
Community members of all colors, genders, races, ages, and immigration status gave witness to the injustice and flawed nature of the so called "secure-communities" program at the Alameda County Public Protection Committee Hearing on the policy of ICE Detainers, January 10. The room was filled, and there were about 30 or 40 testimonies -- all against S-Comm.
Read more: Hearing on ICE Detainers: Community Shares Powerful Stories, Testimonies and Truth
Movement to pass TRUST Act spurs new guidelines from ICE, but few families will be kept together in practice
Announcement underscores need for Gov. Brown to sign TRUST Act to fill in significant gaps in policy
On Friday, Dec. 21, the Immigration and Customs Enforcement Agency (ICE) announced revisions to the controversial Secure Communities deportation program and immigration detainer requests.
In response to the announcement, Reshma Shamasunder, Executive Director of the California Immigrant Policy Center, issued the following statement:
"[Friday's] announcement by ICE regarding the S-Comm program reaffirms what immigrant advocates have been calling for after several years of watching the program's disastrous results in communities throughout California: S-comm is a program that should be scrapped because it makes no one safer and tears families apart. It further validates the painful experiences of ice cream and tamale vendors, domestic violence survivors, and so many other community members who have unfairly faced deportation.
Join us at the Alameda County Public Protection Committee Hearing on "ICE Detainers"
 January 10th 1:00pm
@ 1221 Oak Street #512, Oakland CA, 94612

.
http://www.facebook.com/events/219215554881048/?suggestsessionid=13522720491357586886
For the past two and a half years we have been pushing for an end to S-Comm and this is the first hearing in Alameda County where the Board of Supervisors will hear directly from our communities about the devastating impacts of local police collaboration with ICE.
Increased federal immigration enforcement has resulted in a record number of deportations nationally and results in the separation of families, including here in Alameda County.
In Alameda County approximately 2000 immigrants have been deported and many more individuals have been turned over to federal authorities by the County and are facing deportation.
Community members with advocates and organizers will testify on the devastating impacts of detention & deportation and urge Alameda County to adopt a new policy that ends the enforcement of ICE holds.
In 2011, there was an unprecedented number of deportations, 400,000, more than any year before. California has had over 82,531 deportations as a result of S-Comm, more than any other state.
We want this hearing to be filled with everyone in the community who opposes the separation of families and believes that enforcing immigration is not the job of local police. 

Join us in telling them—Our families belong together!
Support ACUDIR in making Alameda County a more just place for all people.
ACUDIR (Alameda County United in Defense of Immigrant Rights) is a coalition of over 30 member organizations and individuals in alameda county who believe in the right of our families to stay together and live with dignity and justice.
For more information contact Cinthya Muñoz at This email address is being protected from spambots. You need JavaScript enabled to view it. or 510.763.5824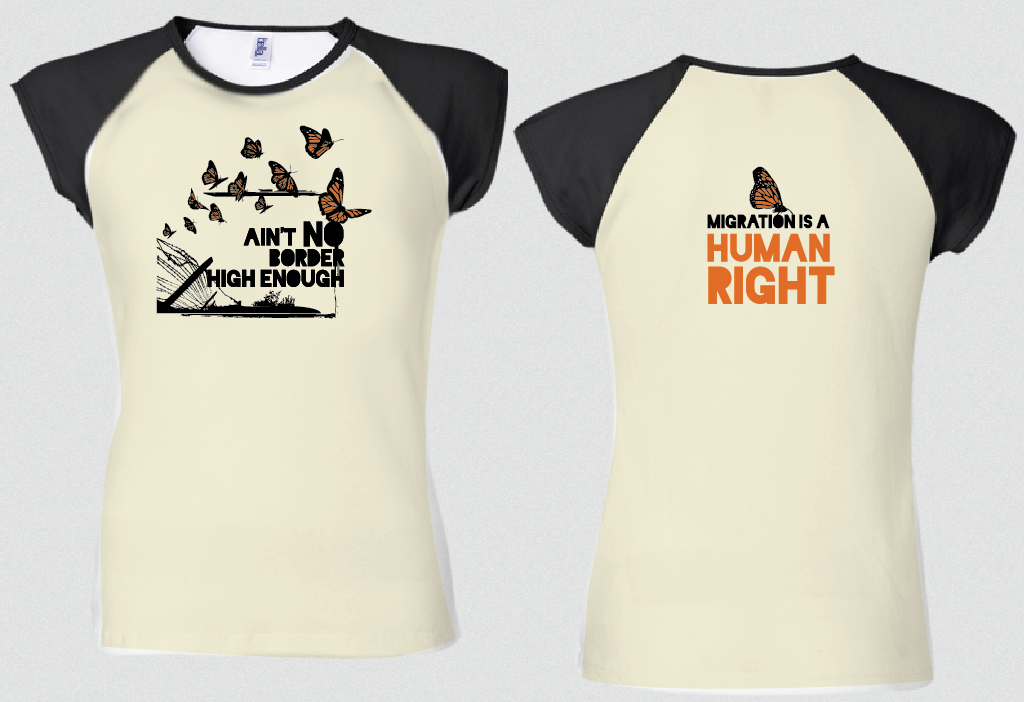 Migration is a Human Right - New work, new shirt!
We're headed to Washington in January to push the Obama Administration to enact the most pro-active immigration legalization possible. Our communities need an immigrant rights movement today more than ever: from de-linking immigration enforcement and local police, to ensuring young dreamers
have access to opportunity.
In the past year we, along with many allies, helped strengthen a more anti-racist approach to the work to pass local anti-detainer ordinances in Alameda and San Francisco.
We waged a ferocious campaign with our allies to pass the TRUST Act, and it successfully passed all the hurdles… until it reached the Governor's desk where he vetoed it in an eleventh-hour decision. We were deeply disappointed but we responded to the veto that we would not be stopped and on Monday, December 3, re-introduced TRUST Act 3.0. now AB4.
This week Attorney General Kamala Harris told local law enforcement agencies that Secure Communities is optional and that the program has swept up too many people. It was her first public assessment of the program, which has been highly criticized by immigrant and civil rights groups since it has been in place since 2008. We now demand Gov. Brown to take decisive action to support and sign the Trust Act into law to ensure that this opinion can be realized in locales across California.
Wear or share this shirt, developed by DesignAction, for our grassroots fundraising project, Liberation Ink, to help keep the conversation going, and be part of changing the debate from blame and shame to dignity, self-determination, and resistance.
TODAY and through THIS WEEKEND, BUY the "Migration is a Human Right!" t-shirt and two more to get FREE SHIPPING.